Defra/EU - Research Project NANR 93 (2006)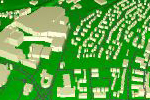 Error propagation testing of CRTN to assess results uncertainty due to errors in input datasets for WG-AEN and DEFRA (with DGMR) Defra.
Recent research to evaluate compliance with CRTN, CRN and ISO 9613 for 5 leading noise mapping packages, development of test cases and review of non-compliance issues and uncertainty introduced.
WG-AEN's Good Practice Guide and the implications for acoustic accuracy.
The outcome of the research were used to support the revised version of the WG-AEN Good Practice Guide v2, and the complete set of final reports from the research can be accessed from the Defra Noise research website click here.