Noise mapping in Malta (2010-11)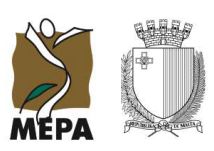 Acustica is pleased to have been appointed by the Malta Environment & Planning Authority (MEPA) to develop a strategy for monitoring environmental noise in Malta under the EC Directive 2002/49/EC.
Acustica is leading an international team of specialist consultants including independent consultants DARH2 from Croatia, along with Malta's oldest legal firm, Fenech & Fenech Advocates and a specialist acoustics consultancy AcoustiCAL from Malta. The completed project will fulfil Malta's requirements for noise maps to meet the EU's Environmental Noise Directive, and lay the foundation for a national environmental noise monitoring system.
Tenders were invited under the OJEC procurement process. The Acustica-led consortium won the contract in competition with five other tenders. The project is funded by MEPA, and the outcome will form one of the initial deliverables towards the environmental monitoring system which is to be established over the next three years.
The project will develop a strategy for the monitoring and management of environmental noise from roads, aircraft and industrial sites. The first stages of the strategy will then be delivered through the delivery of a specification for the procurement on noise monitoring equipment and software, followed by the production of strategic noise maps and population exposure statistics across Malta for submission to the EU Commission. Delivery is scheduled for March 2011.